Amsoil bypass filter installations
Here are some photos and info on several bypass
oil filters that I have personally installed.
I have done many in the last 25 or so years but unfortunately didn't take photos of the early ones.
---
This is Hammer's truck
It's a 2001 Ford F-150 with a
4.6 V8. He runs alot of miles.
I installed the Amsoil bypass when the truck was new and changed
trans (manual) and rear end to Amsoil.

As of 12-07 it has over 514,000 miles, I took this photo of his
odometer. Now over 600k as of July 2009



Click to enlarge
Here is a close up


Hammers truck has the orig engine, trans and rear end.

This is the simple bypass filter installation
the photos are 2007 after 6 years on the road.
If it wasn't for a leaky P/S pump the engine would be clean.




Click to enlarge

This Amsoil bypass filter setup is my favorite type.
(I have also done a similar one on a S-10).
The stock filter is upfront, it's easy to tap into the oil system
there and I used a hollow taper tap fitting to get the oil back into the
side of the pan. The hoses are short and there isn't much to go around.
The bypass filter is behind the bumper, high enough to not be seen
and be safe from damage but out front it gets cool air cooling the oil.
Although still driven daily his truck is now only getting 40-50k or so
on it a year but still runs great.
---
Hammers new truck
This one is a 2005 Dodge Cummins, auto trans.
This truck is the replacement for the F-150 Ford above.
This is a dual remote system which moves the OEM oil
filter off the engine to a remote location with the bypass filter.

These setups are more costly and a little more work
but have the advantage of having both filters in the same location.

On this installation I again put it behind the bumper. It sets between
the radiator and the stabilizer bar and to properly fit it needed
to be angled forward a little. The owner likes this because he can
change either filter without raising the truck off the ground.





Click to enlarge photo
You can see/buy the Amsoil dual remote filter setup here.

The last time I had this truck in it had just over 200k on it
and I was changing the ATF. The trans was changed at
to Amsoil at 100k and at 200k the owner wanted it changed again.
Here is a pic of the trans pan after I took it off.




Click to enlarge photo

I have seen many pans with alot less miles that didn't look this good.
Check out Amsoil ATF fluids.
---
1998 International with
DT-466E diesel engine.

I put a Amsoil dual guard (2 EaBP100 bypass filters) on this one
as it has a large sump,
I located it on the RF frame between the bumper and
the axle. It sets in aprox the same place as the steering gear box
on the other side so it doesn't interfere with the tire.

It's an easy installation as the OEM filter is on the right side
and the DT-466 engine has a oil pressure plug on the filter mount
and an oil return fitting next to that on the block.



Click to enlarge photos

This setup does a tremendous job keeping the Amsoil clean
The oil in this truck still looks very clean at 20k.
After seeing the 20,000 mile oil in this truck another owner of a
similar IH truck running conventional oil told me that that's what
his oil looks like at 2,000 miles.
With this set up 40k is no problem, and with oil analysis
it can go virtually forever.
You can see the dual guard bypass here.

*********

In Aug 2012 this truck has a turbo turbine failure.
The exhaust turbine and shaft still spun freely while
running but the intake side turbine failed.
While replacing the turbo I decided to pull the valve cover to
check the valve clearances and took a couple pics.

At the time of these photos this engine had 270,000 miles
on it running Amsoil 15w-40 since break in with oil changes
every 30-40k. You can see how clean the engine is, nothing
was cleaned before the photos.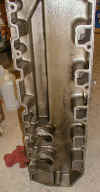 Click on photos to see the full size.

---
93 Mazda B-2200
This is a good news - bad news story.
I have owned several of these pickups (10 or 12) running them
on routes putting 60-70k a year on them and going several
hundred thousand miles each before selling them.
Unfortunately I have lost my records of mileage
on this one or I would post the details.

Although using a bypass filter helps keep your oil cleaner
and using Amsoil helps protect your engine, neither can
protect your engine from poor workmanship.
This truck had a water leak and overheated.
I replaced the Cylinder head with a rebuilt one.
Some time later it broke the head off a valve destroying a
perfectly good engine. This is a photo of the new engine
being installed is the only photo of the bypass I can find.
This is a set up I have done several times, the filter sets on the
drivers inner fender. I ran the return oil back into the valve
cover at the rear where there is an unused boss on the cover.


---
1995 Dodge Cummins

I was running the valves on my 95 Dodge Cummins (12v)
at 215,000 miles and took this pic. Pretty clean for a diesel.
This one runs Amsoil 15w-40 with a single bypass
filter (EaBP90) which keeps the oil nice and clean.
The oil will stay golden for a few thousand miles
and then go brown but it doesn't get black like regular oil.

This one only goes 13-14k a year now (wife's truck)
so it gets an oil change once a year weather it needs it or not.
As of 2012 it has 280,000 and still going good.
I will post more pics when I get them.....
You can see all the Amsoil bypass filter setups and replacement
parts here.